HMS Sophie was Jack Aubrey's first permanent command as a master and commander.[1]
She is a 14-gun brig-rigged sloop. During the French revolutionary wars she was captured from the Spanish by the Royal Navy and given to Aubrey. Under him she captured several privateers and a 36-gun xebec-frigate. However she was eventually captured by a French squadron. The Sophie, as described in Master and Commander, is closely based on the genuine HMS Speedy, commanded by Thomas Lord Cochrane, closely matching her dimensions and her operational history, including her capture by a French squadron under Admiral Charles Linois in 1801. The Sophie's most spectacular victory, the defeat and capture of the Spanish xebec-frigate Cacafeugo duplicates the historical Speedy's capture of the Spanish El Gamo. While the two vessels share the same rig and armament, the Sophie is a quarterdeck brig, while the Speedy had only one flush deck.
The Sophie has a complement of 89 men plus Aubrey and Maturin durring the majority of the action depicted in Master and Commander. Her guns were four-pounders, giving her a broadside weight of metal of 28 pounds. As captain, Aubrey had intended to add two 12-pounder bow chasers, but abandoned his goal when the installed guns damaged the Sophie.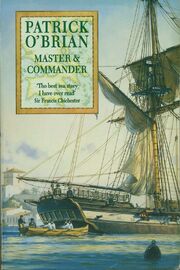 Notes and References
Edit
↑

As a lieutenant, he had previously commanded prize-crews bringing home captured ships.
Ad blocker interference detected!
Wikia is a free-to-use site that makes money from advertising. We have a modified experience for viewers using ad blockers

Wikia is not accessible if you've made further modifications. Remove the custom ad blocker rule(s) and the page will load as expected.