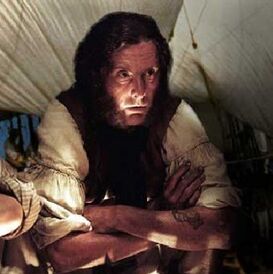 His excellent first name is "Preserved". Killick is Aubrey's shrewish steward, inherited from Captain Pallas when Aubrey assumes command of the Sophie in Master and Commander. He also comes to unofficially care for Maturin, particularly his long-suffering uniforms and clothes, and never resists the opportunity to nag either of them (though mostly Maturin, his habits generally leaving him looking much shabbier than Aubrey) for their carelessness in appearance. He is also known to listen in on their private conversations, steal from the captain's private stores, and drain more than his fair share of wine from the captain's table. Despite all these shortcomings, he is a highly valued, fiercely loyal and well-respected member of Aubrey's crew. Killick follows Aubrey from ship to ship, and it is no surprise that larger dictionaries define killick as a small anchor. Killick's star does fade slightly in the nineteenth book, The Hundred Days, when an assistant at one of Aubrey's dinners "in a paroxysm of adolescent drunkenness, spewing improbable jets of Madeira," contrives to trip Killick and the poor steward cracks Stephen's sacrosanct narwhal horn (p.89). Eventually, the horn, which the superstitious crew believes will bring good fortune to the ship, is restored, as is Killick's standing among his fellows.
In the 2003 film, Killick was portrayed by actor David Threlfall.
Ad blocker interference detected!
Wikia is a free-to-use site that makes money from advertising. We have a modified experience for viewers using ad blockers

Wikia is not accessible if you've made further modifications. Remove the custom ad blocker rule(s) and the page will load as expected.